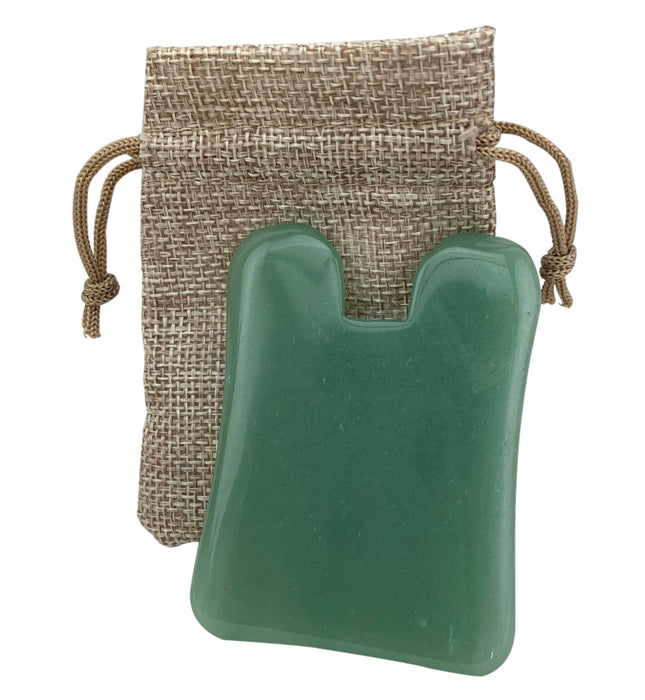 A traditional form of Asian medicine that uses a soft natural stone surface to stimulate circulation. The curved stone is pulled gently, but firmly across the face. This act of "effleurage" or "scraping" is thought to stimulate circulation, release toxins and reduce puffiness. Pulling the stone across the face is a simple but effective movement. Many easy tutorials are available on Youtube. Our version is made from genuine Aventurine and represents the traditional design - with contoured edges perfectly shaped to help promote oxygenated blood flow around the eyes , cheek and nose.
Dimensions:  2.75" x 2.2"
Benefits of Gua Sha Therapy
Gua Sha is based on the act of effleurage – or scraping. It is an ancient Chinese medical therapy that predates acupuncture. The primary goal of Gua Sha is to awaken and activate the meridian paths in your face. This is accomplished by pulling the natural stone across your face. Gua Sha has many benefits to include:
- Stimulate circulation
- Eliminate dark eye circles
- Tighten skin
- Re-circulate lymph fluid
- Reduce inflammation
How to Use Your Gua Sha
1. The Gua Sha is pulled across all areas of the face, neck & forehead.
2. The angle of the Gua Sha should be close to the skin – about 15 degrees above the skin (not 90 degrees).
3. Some light lotion or skin cream can be incorporated on the face or Gua Sha to eliminate friction and to make the pulling motion easier.
4. The Gua Sha is shaped to allow you to contact various areas of the face.
5. Pressure upon skin should be firm – but not to the point of discomfort.
6. The key is to use a firm "sweeping motion" – under the eyes – up the neck – across the forehead – and across the cheeks.